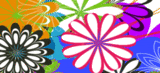 Right here...at the Scrap City crop that started today. The challenges are wonderful, packed full of fun and the grand prize is a kit from Paper Popsicles!!!! The sold out March 2008 Vacation kit!!!
If that's not enough...tomorrow, April 26 at 10AM Pacific my pal Cheryl Waters the one and only #2 lead Fiskateer will be dropping by for a chat! Cheryl is an amazing gal that I had the pleasure of meeting in San Antonio last year. If you need a pick me up...she's the gal to give it to you...
All the challenges are due on Sunday night by 10 CST...so you have lots of time to get over to the Scrap City site and get a chance to win a wonderful RAK or two...and maybe even that wonderful Grand Prize from Paper Popsciles!!!
http://thescrapcity.com/index.php
Hope to see you there!!!