So...this has been a super busy scrapping week for me...I got my projects done for the Paper Popsicles February Petals kit; which can be found here:
http://prelude.websitewelcome.com/~paperpop/store/index.php?main_page=product_info&cPath=1&products_id=246&zenid=9e4e379ed7e8ceb0fb7ae1b562d9e6b8
Here is what you get in the kit:
This kit includes: 10 sheets of double sided 12x12 papers by Upsy Daisy Designs; 1 sheet of rub-ons by Upsy Daisy Designs; 1 flower shaped doodle template by The Crafter's Workshop; 1 green glaze pen by Sakura; 1 12" piece of coordinating ribbon; miscellaneous brads; 1 clear stamp, Flower within a FLower by Autumn Leaves; 1 sheet of bling accents by heidi swapp; 1 package of 30 chipboard buttons by Making Memories; 1 clear stamp, Double Scroll by Autumn Leaves; 2 sheets of 12x12 coordinating cardstock by Bazzill.
Here are my creations from the kit. I made this wonderful chipboard container; bought it in the dollar store...it was covered in some not so nice paper, so I removed the paper and used the great Upsy Dasiy paper to recover it. I used one of the jumbo brads for the handle on the top!
The second project is a cute box that I made by folding the one pattern paper from the kit; I added beads and fiber from my stash to complete the project.
Here they both are together.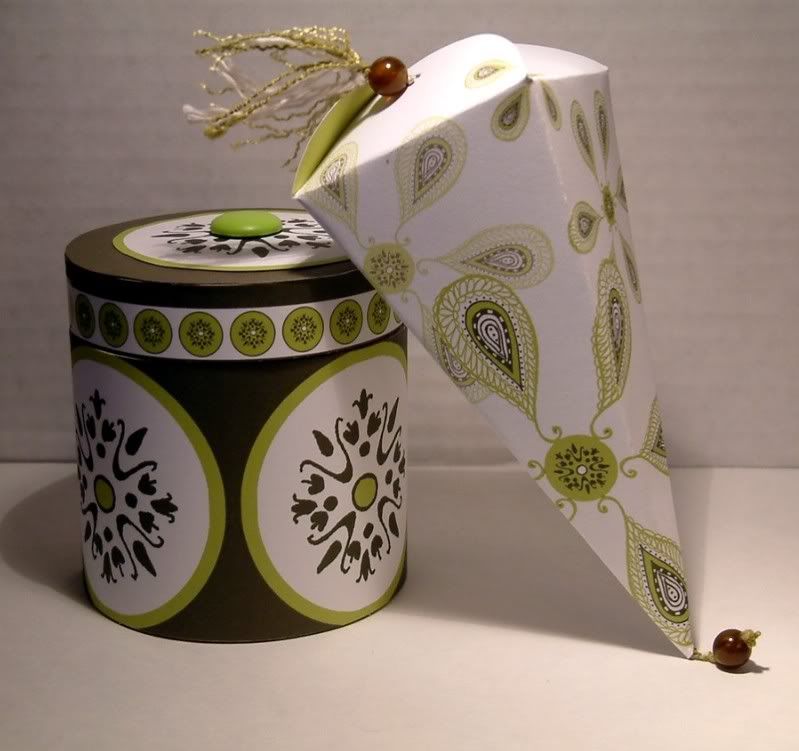 Next, I made this two page layout from the dance rectial...love how the paper compliments the costumes!
I created this card using the doodling template that comes in the kit...is is super fun to use.
Finally....I made this Thank you card.
There is still tons left to this kit and the stamps and doodling template...well they never run out, so I'll always have them!