So...Suzanne is hosting a weekly blog challenge that I am going to try:
http://oscrappyday.blogspot.com/
Here was this weeks challenge:
Look at the wall hangings on your walls. (family portraits excluded) Post a photo of your favorite one and write about it on your blog. Where did you get it? Why do you love it?
So...this is the painting that I bought when I stopped working; it was a gift to myself for our living room wall that had remained blank and white for far too long.
I loved the flowers, I love that only a few are colorful, and the open field feeling of the art work. I was so thrilled to find that it matched my new wall color perfectly.
I was also even more thrilled to get a big coupon in the mail to get it framed; because it is on the stretcher board it has an extra deep frame (i.e. not cheap).
This is now what you see when you reach the top of our stairs...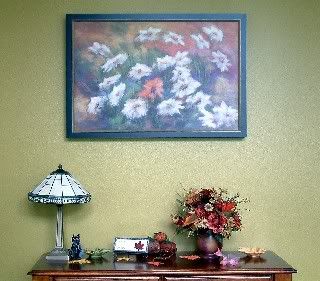 much more inviting than the old blank white wall I think!