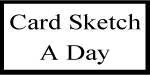 Each Saturday Susan features a new sketch artist and they get to show off their creative cards solo!!! The artist for today is.....ME!!!!
http://cardsketchaday.blogspot.com/2009/01/card-sketch-day139-saturday-spotlight.html
You can check out my creations today and tomorrow Susan has created a sketch to share based on a card that I provided to her...how exciting is that!!!
Thanks Susan...what a thrill!!!